My Ministry in Texas

I left the "Promised Land" and moved to the "Wilderness" to attend Southwestern Baptist Theological Seminary (SWBTS) in Fort Worth. Many friends, and even one professor, had told me about a wonderful ministry in Arlington, Texas, so I decided to check it out.
I felt "at home" from the first day. I had recently returned from Brazil where I had served as a Southern Baptist Journeyman Missionary, and Mission Arlington felt like the mission field. It is a ministry that exists to "take Church to the People" and whose only two "rules" are:
1) Hang out with your people.

and

2) Hover around John 3:16.

I began volunteering in September, 1993 and I had the opportunity to help start a church in a neighboring city. An apartment community close to where I was living allowed us to use their small Rec Room for Sunday morning Bible Study and After School Programs during the week. Now we average between 30 and 35 people every Sunday (including 8-10 adults).

When I graduated from Southwestern, I began to work full-time at Mission Arlington. I work at the mission office and out on property.  I teach After School Programs, Bible Studies, Youth Activities and Computer Classes as well as coordinate resident activities, field trips, summer activity programs and special events.  <Whew!>

God has used Mission Arlington and the people who serve there to teach me so many things. It is one of the greatest blessings in my life. I plan to serve as a career missionary overseas one day, but in the meantime, I know God has called me to be a missionary right here in this "foreign country" - Texas!

Food For Thought . . .

One hundred years from now,

It will not matter where your house was,

Nor what kind of car you drove,

Nor how large your bank account was. 

But there is something that will matter,

Whether or not you knew Jesus

And told others about Him.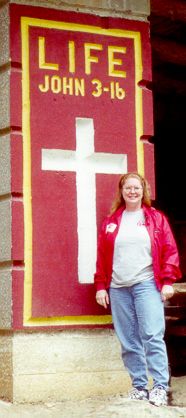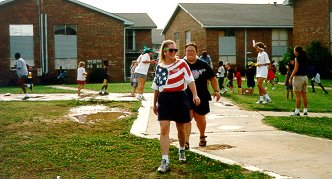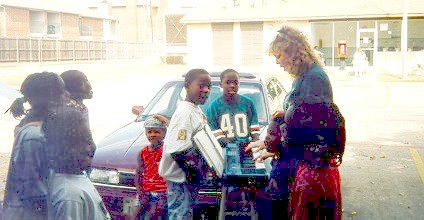 I love to sing and teach people Scripture and Bible Truths using music.  Some of the best "teaching time" comes during singing time.   Our church has sung "For God so Loved the World" every Sunday for over ten years!  The children remember songs we learned years ago.  I know I still remember songs I learned as a child.

I believe God will honor this way of "hiding His Word" and bring the message back to memory when needed. 

         Not only is it a gift to God of Praise and Worship, it also is a great opportunity for all the people, whatever their age, to be together, in harmony - or not!  :o)   It is also especially useful when you are teaching a group from age 4 to 64 and only have one teacher!

         I am also part of the Mission Arlington Praise Team and help lead worship during the weekly workers' meeting.  One of my greatest joys is singing and praising God. 

Whew! Most of these kids are now as tall or taller than I am!